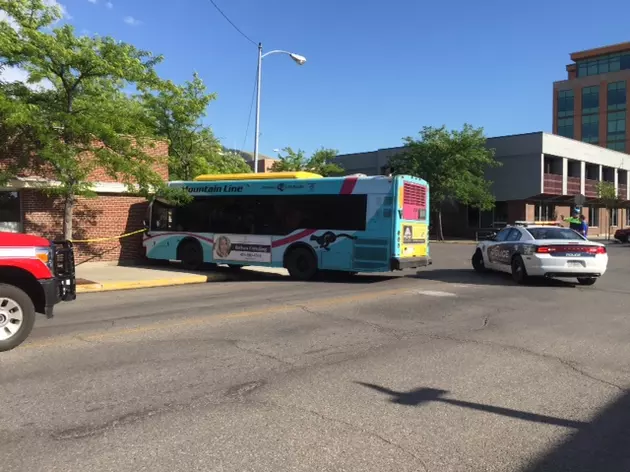 Mountain Line Bus Crashes Into Missoula Police Detective Headquarters
mtn line crash
A Mountain Line bus drifted through the main depot and crashed into a building at the corner of Ryman and Pine, the offices that house the Missoula Police Detective Division. 
Corporal Patrick Erbacher said the incident appeared to have been caused either by a faulty emergency brake, or a brake that was not set properly.
"We had a bus that was parked at the Mountain Line bus depot, and at some point, the vehicle ended up rolling forward on its own, and the driver tried to get it to stop by reaching through the window to pull the emergency brake but couldn't get it to stop, so it rolled across the street into our detectives building," Erbacher said. "The driver suffered minor injuries trying to stop it, but there were only a couple of scrapes."
KGVO News reporter Jon KIng spoke to a witness named Melanie, who had just gotten off the bus before it crashed into the building.
"She had come to a full stop and everyone had gotten off, including me and her," Melanie said. "She (the driver) had gone over to the other side of the bus to  close the doors and by that time I was in the middle on the front and it started rolling. I got out of the way and it rolled into the building from there. From what I was told, the building was moved a few inches."
Corporal Erbacher said there was damage to both the exterior and interior of the building, plus the bus' windshield broke out, and the front bumper and bike rack were both crushed.
The only person injured was the bus driver, who suffered some minor scrapes.
The investigation into the incident is ongoing.