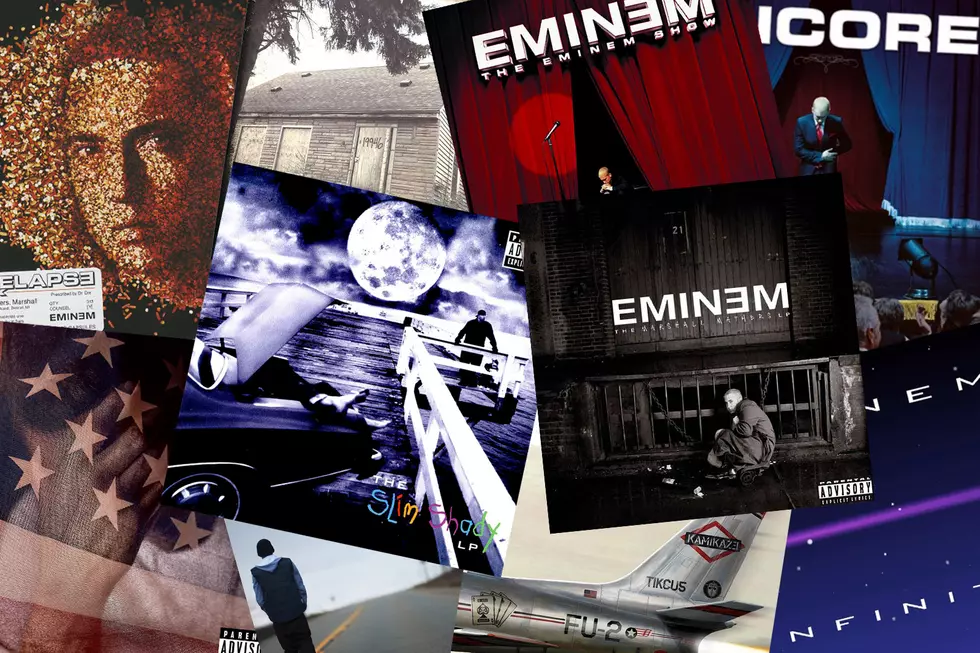 Eminem Albums Ranked Worst to Best
Aftermath / Shady Records / Interscope Records / Web Intertainment
For all the controversy that has surrounded his lyrics and life, the talent of Eminem as a wordsmith is undeniable.He's a highly-touted wordsmith who revels in the task of placing his vulnerabilities in the front row for everybody to see. We're ranking all of his albums from worst to best below.
When Dr. Dre unearthed the pugnacious Detroit rhymer from the underground circuit, he never imagined that Eminem would transform into a mega superstar. Prior to signing Slim Shady, the legendary producer worked with a multitude of big name acts like Snoop Dogg and the late Tupac Shakur. So when everyone found out that he decided to link up with Em, skepticism arose.
Instead of haplessly watching critics excoriate him simply because of his skin color, Eminem pounced on the rap game with his stellar 1999 debut album, The Slim Shady LP. The precocious lyricist excelled rapidly and and quickly became an even more formidable threat with masterful releases such as The Marshall Mathers LP, The Eminem Show and more.
With 10 albums under his belt and close to 50 million albums sold in the U.S. alone, Eminem has sown together an impressive resume. Bar for bar, he is arguably the undisputed champ.
With him teetering along the lines of immortality in the rap game, we decided to do the unthinkable and rank his albums from worst to best. This wasn't easy, but we got the job done.