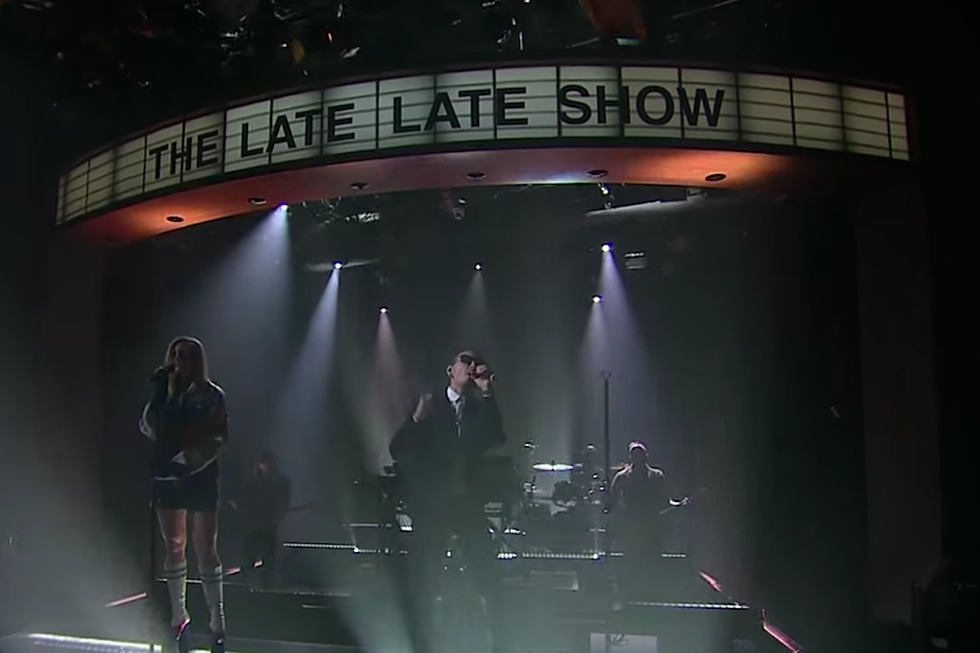 Watch Linkin Park Perform 'Heavy' on 'The Late Late Show With James Corden' With Guest Kiiara
YouTube: The Late Late Show with James Corden
Linkin Park visited The Late Late Show With James Corden last night (Feb. 27) to perform their brand new One More Light single, "Heavy," with Kiiara.
The song marks a new direction for the band, stripping away the busier elements of their sound, starting the writing process with just the vocal melody. The "Heavy" collaboration is the result of this new writing angle, where Chester Bennington's voice takes the spotlight against a minimalist beat and snappy accents, colliding in wondrous harmony with Kiiara's soothing pipes.
Opening with a subdued vocal, the song's intimate energy is mirrored by lighting effects onstage, bathing Bennington and Kiiara in a soft, pink light. As the color fades, the rest of the band becomes visible in the background, laying down the low guiding bass line and light percussion. As the chorus soars, the lighting explodes, giving "Heavy" a new emotional significance.
The song has been met with polarizing reactions with some fans hoping the rest of the album would revert to the band's more expected sound. Mike Shinoda cleared this up with Billboard, stating, "This wasn't a scenario where the whole album sounds one way and the single sounds different. This is how the album sounds. So we wanted to go out with a song like that, where everybody can get a sense of the direction of this body of work."
One More Light will be released on May 19 and pre-orders can be placed at Linkin Park's webstore.
Linkin Park Albums Ranked
10 Rebellious TV Rock + Metal Performances