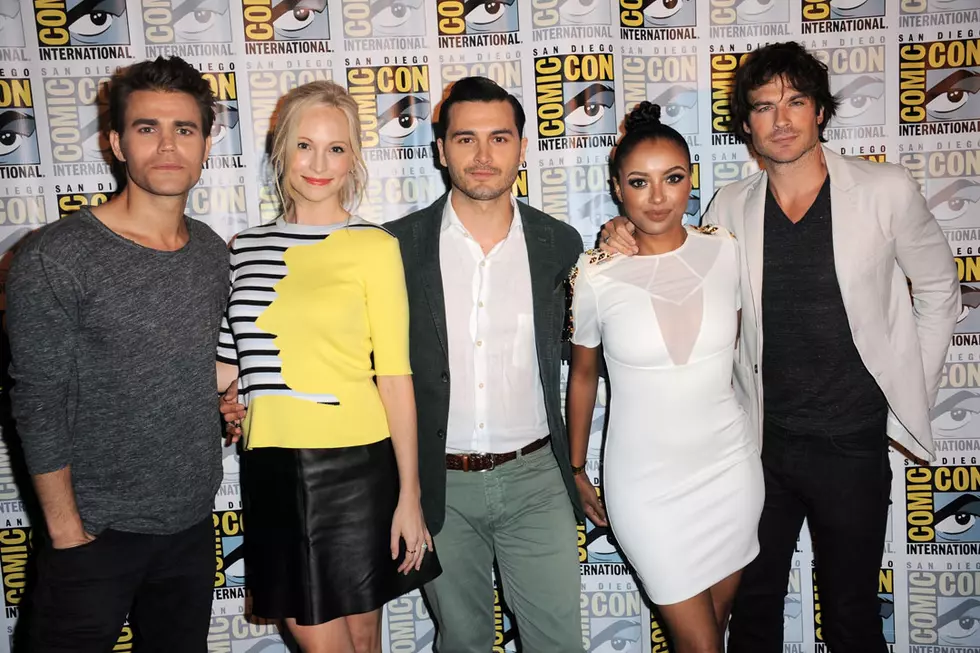 So Long, Salvatores: 'Vampire Diaries' Stars Say Goodbye As Series Ends
Albert L. Ortega, Getty Images
The Vampire Diaries, the CW drama about the vampire-ridden town of Mystic Falls, airs its series finale after eight seasons tonight (March 10). And while news that the show was headed to its final resting place broke in April of last year, series star Nina Dobrev departed two seasons ago (she returns as Elena tonight) and the show's certainly seen its creative ups and downs, loyal fans will be sad to see it go. You know who might be even sadder? The Vampire Diaries cast, who made a lot of memories with each other over eight years.
Ian Somerhalder and Paul Wesley (who played vampire brothers Damon and Stefan Salvatore) Zach Roerig (who played long-suffering human Matt) and Michael Malarkey (who played vampire Enzo, a character we hope will be magic-ed back into Mystic Falls in the finale) spoke to Parade about what ending the show felt like.
Malarkey said he was surprised by how emotional he got after his last-ever take as Enzo. "So, the last scene I was doing, I was pacing around, doing my thing, and then I heard this voice from Julie coming in the doorway, saying, 'Michael, it's time. I wasn't ready. But, she gave a great eulogy to everybody about our place in the show. I remember being pretty deeply moved by that. And then, they wanted a speech, which I sputtered through."
Wesley had something of a different experience. "For my final scene, I finished and had my eyes closed, and someone sprayed Funfetti in my face. It was a direct shot, in my face. I was doing this emotional scene. I was crying, and then, all of a sudden, I had Funfetti in my eyes. It was really funny." (Follow-up question, Paul what is Funfetti spray?).
Nina Dobrev told Entertainment Weekly that unlike her departure at the end of Season 7, her return for the series finale "feels more final. It's more almost like closure. Everyone's been very nostalgic; it's a bittersweet ending. I'm very happy that we were able to make it work and that I came back because I really missed the whole family and wanted to be part of the final goodbye."
She continued, "So much has changed for all of us. When I look back at everybody and see how everyone's changed in such a positive way and grown into such beautiful adults, it's great and it's also kind of sad."
Julie Plec, who co-created the show, bringing the Alloy YA books' characters to the screen and continuing on as showrunner till the end, has been bidding goodbye to the series on Twitter all week. Plec wrote on Thursday night, "One last sleep before the final episode of #TVD. It just hit me. Much love to all of you in advance."
Meanwhile Somerhalder, who branched out into directing Vampire Diaries episodes like Wesley (who just landed a gig directing an episode of Freeform's Shadowhunters), also took a trip down TVD memory lane on Instagram.
Meanwhile, actress-singer Kat Graham, who played witch-turned-psychic Bonnie Bennett, said shared fan art on Friday with the message, "The end is near... thank you to all the beautiful fans for your support during the 8 years of #thevampirediaries."
Candace King, who played Type A vampire Caroline Forbes, shared a bloody sweet flashback photo with her onscreen mom.
Kayla Ewell, who returned this season to play Vicki Donovan (who died in Season 1 but reappeared as a guest star in subsequent seasons), shared a photo of her character, writing "On the outside, looking in. Wildly misunderstood. And I love every single bit of her."
The Vampire Diaries series finale airs at 9PM est, preceded by a one-hour retrospective on the show, on the CW. Watch a trailer that features Nina Dobrev's brief return to reunite Elena Gilbert with Damon below.
Buffy Turns 20: The Buffy the Vampire Cast Then and Now