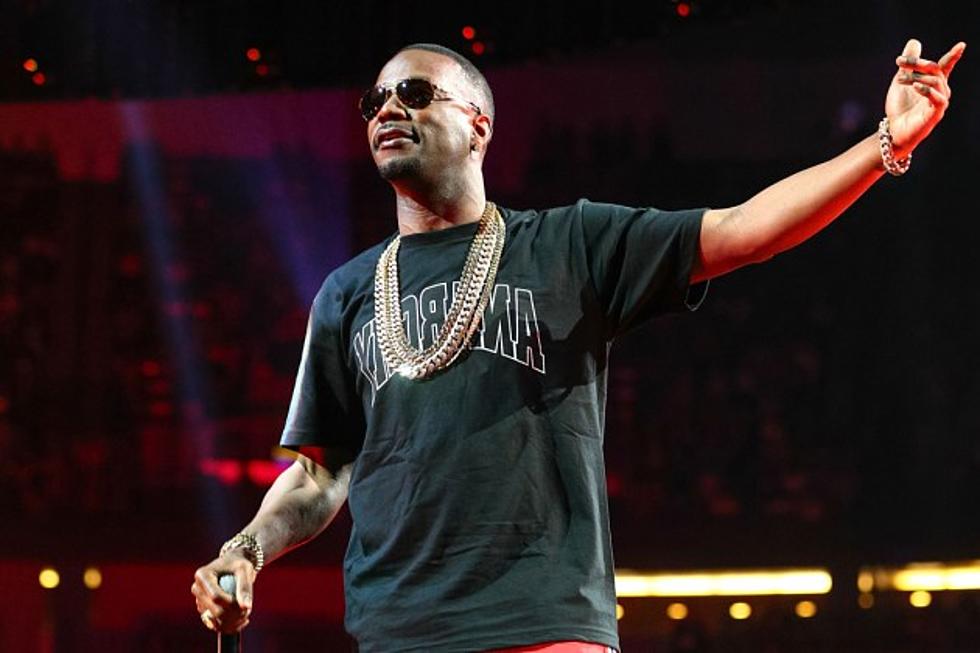 Juicy J Performs With Injured Foot at THC Tour Stop in Los Angeles [EXCLUSIVE]
Imeh Akpanudosen, Getty Images
You don't stay in the game for more than two decades without a loyal fan base and Juicy J has no problem giving his all to his devoted fans at a show in Los Angeles.
Despite having surgery for his injured left foot, the MC brought his THC: The Hustle Continues tour to the Hollywood Palladium on Friday (May 22). He was scheduled to hit the stage at 10 p.m. but the "Bounce It" rhymer shockingly began his set a whole 15 minutes early, entering the stage on a scooter with his injured leg elevated.
"F---ed up my ankle and I had surgery," he explained to the packed house. "My doctor said I can't go on tour, I said, 'f--- that!' Put a cast on my s---, roll me some mothaf---in' weed and let's mothaf---in' go! Because I am going to see my fans," he continued before lighting up a huge spliff and kicking off his set with his single, "Stoners Night" from his Blue Dream & Lean 2 mixtape.
Backed by a live band and surrounded by thick kush clouds, Juicy J was in the zone and had the audience turned up with his hip-gyrating inducing cut "Low," followed by the club banger "For Everybody." While he was dressed casually in a black tee, black leather bomber and cargo pants, and his trusty surgical boot, it was obvious that the Trippy King was in pain and tired 15 minutes into the show.
Nevertheless, he remained in great spirits. Like the OG that he is, he took a seat on a stool and lit up another joint and kept rolling out his hits.
Throughout his set he would get intimate with the crowd and share stories of what influenced a particular song or where it was written. "I wrote this song in a $100 apartment smoking a backwood and sippin' beer," he said of his infectious 2013 hit "Bandz a Make Her Dance." "I was telling my boy 'I have a dope hook but I don't what to do with it.' Y'all want to hear it? With that, he started rapping the chorus to his chart-topping song, much to the crowd's delight.
But soon after, it was nearing the hour mark and it was THC time. The Memphis rhymer issued a much warranted "weed break" as he sparked up his medicinals and sat on his throne -- a red velvet chair with lighting detail -- and lit his upteenth blunt. He also instructed the crowd to do the same.
Although he was suffering from a foot injury and couldn't turn up to his usual levels, Juicy had another surge of energy and jumped up to perform several more trippy classics including "Whole Thang," "All I Blow is Loud" and "Bounce It." He even delivered his guest verses on Ne-Yo's "She Knows" and Usher's "I Don't Mind."
The Oscar-winning rhymer winded it down again and made yet another announcement. "How many of y'all remember Three 6 Mafia?" he asked. "Well, I been thinking about a reunion," he confessed.
"Matter of fact I am going to do it. If you are hearing rumors Juicy J is going to retire, not without a Three 6 Reunion...that's coming soon," he finished.
The crowd roared in approval. It was only right for him to take it back to his origins and introduce some of the younger audience members to the songs that got him his start. He performed a medley of Three 6 Mafia's best tracks, including "Weak Ass Bitch," "Poppin My Collar" and "Stay Fly."
Nearly an hour into his set, Juicy was hardly ready to call it quits. He was still limping and using his scooter to interact with fans on both sides of the stage. But he wasn't done putting on for his second hometown of California where he lives because "weed is legal out here."
In efforts to thanks his supporters, the "Already" rhymer began taking fan requests and even doing SnapChats on people's smartphones that were passed to him on stage. Juicy's energy level and performance -- even with an injury foot -- was better than most of the younger rappers with two working feet. Overall, Juicy J is still one of the best in the rap game.
His THC: The Hustle Continues tour puffs on to the Fillmore in San Francisco, Calif., on Saturday (May 23) and wraps up in Tampa, Fla., in June.
Check out video from Juicy J's THC Tour Stop at the Hollywood Palladium below.
http://instagram.com/p/3B2TzZEj8Z/