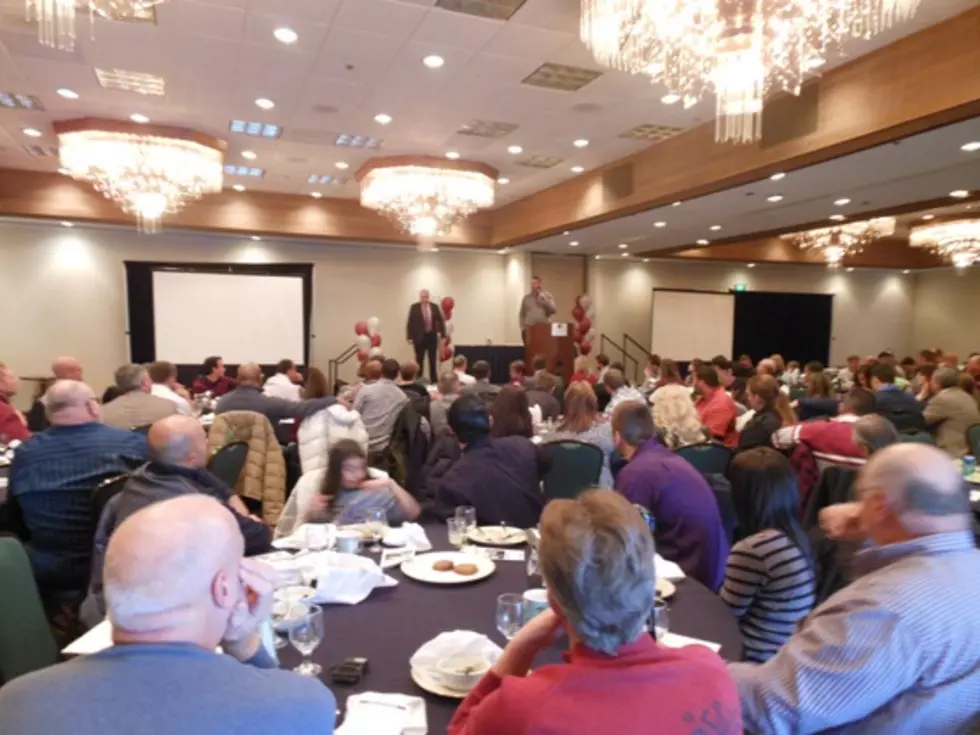 Johnson – Coyle Chosen Most Valuable Players on Montana Grizzly Football Team [AUDIO]
photo by Peter Christian
The 2013 Montana Grizzly football season may have ended in disappointing fashion, but one after another, speakers at the Sunday December 8th football awards banquet encouraged players, parents and fans to consider how remarkable a season it was.
The Grizzlies finished with a 10-3 record, after losing to Coastal Carolina on Saturday, December 7. The next day, Head Coach Mick Delaney handed out the honors at the annual Grizzly Legacy Awards Banquet. Delaney said the end of the season was bittersweet.
"It's a day of mixed emotions," Delaney said. "You're so emotional and so sad to be losing those 13 seniors, but then you look at all the players you have coming back, and that makes you happy, so it's a mix of the two. We're really looking forward to next year. In fact, we wish we could start tomorrow. The team will be getting back in late January to hit the weight room and we'll see if we can't start building that next team, especially with all the intangibles like teamwork, caring about each other, doing the right things and working to be successful."
Head Coach Mick Delaney
The team's honorary chaplain Mike McGowan put the end of the season in a positive light.
"The reality of this season is that it's a huge triumph," McGowan said. "It's a huge victory for a group of young men to come together and stay together under such adverse scrutiny, whether it from the NCAA, the Department of Justice, and all the way down, to maintain a common purpose, and then to end the season the way we did, I cannot and will not be disappointed."
Honorary Chaplain Mike McGowan
The Steve Carlson Award for the most valuable players, chosen by the team members themselves, were junior quarterback Jordan Johnson on offense, and senior linebacker Brock Coyle on defense.
Other honors include the Terry Dillon Award for outstanding back or wide receiver that went to sophomore wide receiver Ellis Henderson. The Pat Norwood Award for most inspirational player went to Jordan Tripp. The Tony Barbour award for enthusiasm, dedication and commitment was given to sophomore defensive end Tyrone Holmes. The Paul Weskamp Award for outstanding offensive lineman went to senior Danny Kistler, Jr. The Golden Helmet Award for the hardest hitter was given to senior linebacker John Paul Kanongata'a. The Larry Miller Award for outstanding defensive lineman went to junior Zach Wagenmann.
There were also awards presented to outstanding special teams player sophomore Kendrick Van Ackeren. The Scout Team offensive player award was given to freshman quarterback Makena Simis, while on defense the winner was freshman linebacker Tucker Schye.
A special award was presented to senior safety Bo Tully for the highest cumulative GPA on the team.