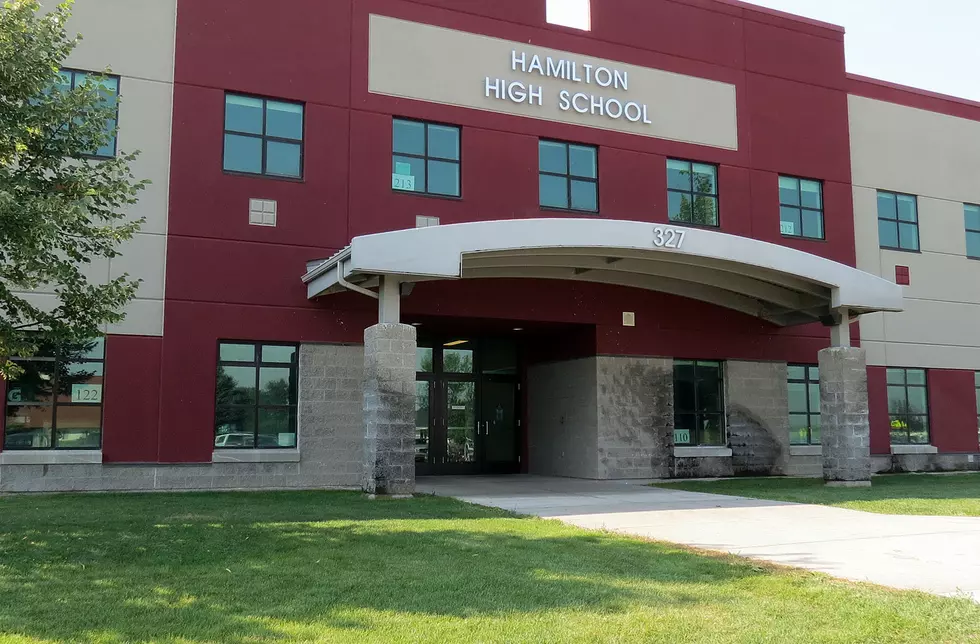 Hamilton High School Reopens – Homecoming Continues
Hamilton High School entrance. (KLYQ File Photo)
Hamilton High School was shutdown for one day due to a reported COVID-19 infection. The school is returning to normal operations Friday, October 9.
The official word from the administration:
Hamilton School District had been notified by Ravalli Public Health Department of an additional confirmed positive COVID-19 case within the Hamilton High School community.
At this time, contact tracing for all known positive cases within the District has been completed and all affected individuals have been notified. All District buildings will be OPEN on Friday, October 9th.
Students and staff should report to school and work as usual.
Due to privacy constraints, the District is unable to provide additional information regarding this matter.
This is good news for the HOCO 2020 - Hamilton's Homecoming week. The football game at the Hamilton High stadium will be at 7 p.m. Friday night and will be broadcast on 1240 KLYQ, www.klyq.com and on the KLYQ app on your cell phone.
Also Friday, the Homecoming King and Queen will be announced. The candidates are: for Queen - Camas Cratty, Katelyn Dickemore, Kaley Gordon, Madison Johnson and Anne Seifert. King - Grayden Beyer, Austin Drake, Gabe Key-Hirmann, Carter Lake and Tristan Lewis. Saturday, the Hamilton volleyball teams have contests against Corvallis at the HHS gym, with Freshmen at 1 p.m. JV at 2:30 p.m. and Varsity at 4 p.m. JV Soccer will be at Corvallis with the boys at 12 noon and the girls at 2 p.m. There are HOCO 2020 T-shirts for sale at the HHS office and at the games this weekend.
Elsewhere, the Stevensville Public Schools are currently not holding classes, due to COVID-19 infections. The schools will remain closed Monday and the plan is to open again on Tuesday, October 13. Distance learning is continuing duriing the closure time.