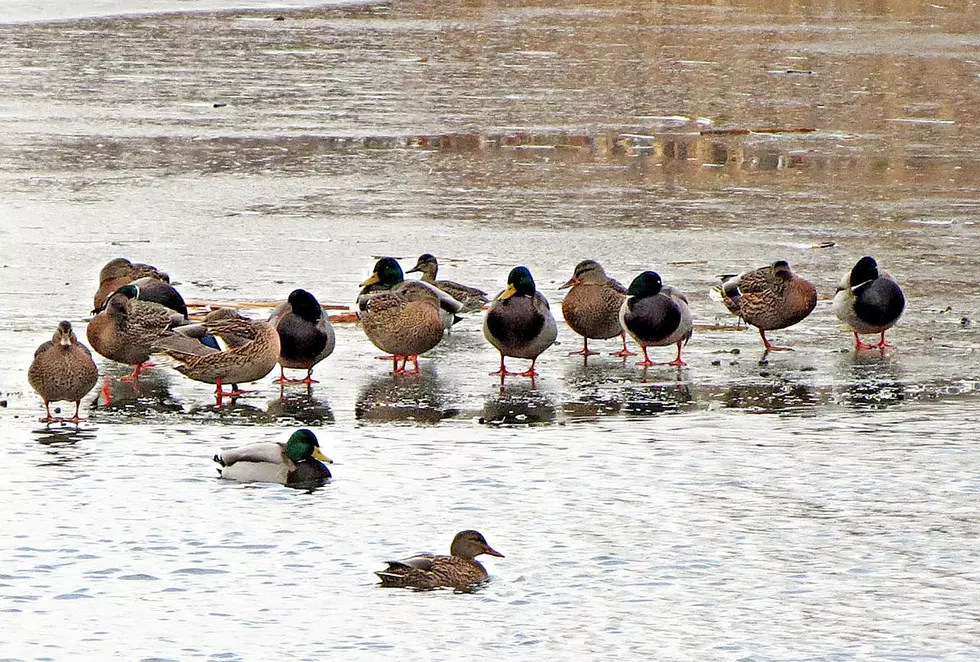 FWP Says Ice Safety Should be Top Concern
The ice might be OK for these ducks, but not for humans. (Mike Daniels, Townsquare Media)
Montana is into the "hard water" season - meaning it's time for ice fishing, ice skating, snowmobiling and just walking across a frozen body of water. All can be dangerous. In the Bitterroot Valley, for instance, the ice can be solid and safe one day, and then with our occasional mild winter days, the surface can be dangerous on the next day.
There are lots of recommendations from Montana Department of Fish, Wildlife and Parks. Here's a few:
Be familiar with the body of water you plan to visit. Be aware of the changing conditions.
If you have even the slightest doubt about the safety of the ice - Stay Off It.
Blue or "Clear" ice is usually hard. Opaque, gray, dark or porous spots in the ice could be weak. Shorelines are the worst.
If an area of ice looks different, stay away. There could be an underwater spring, a gas pocket or a sunken island.
Don't leave children unsupervised on the ice.
Keep your dog on leash. People have died trying to safe their pet.
It's a good idea to wear a life jacket or carry a throwable floatation device.
Minimum ice thickness - Under four inches - STAY OFF.
Ice needs to be very thick before you take a vehicle on the ice. It is not recommended. You are proceeding at your own risk!
Before you leave home, tell someone where you're going and when you plan to return.
Carry a pair of ice picks (long spikes on a heavy string around your neck). If you break through the ice, you can use the spikes to grip the ice and pull yourself out.
If you head out to play on the ice, go with someone who's experienced. It's a whole different world out there.
LOOK: 50 photos of American life in 2020