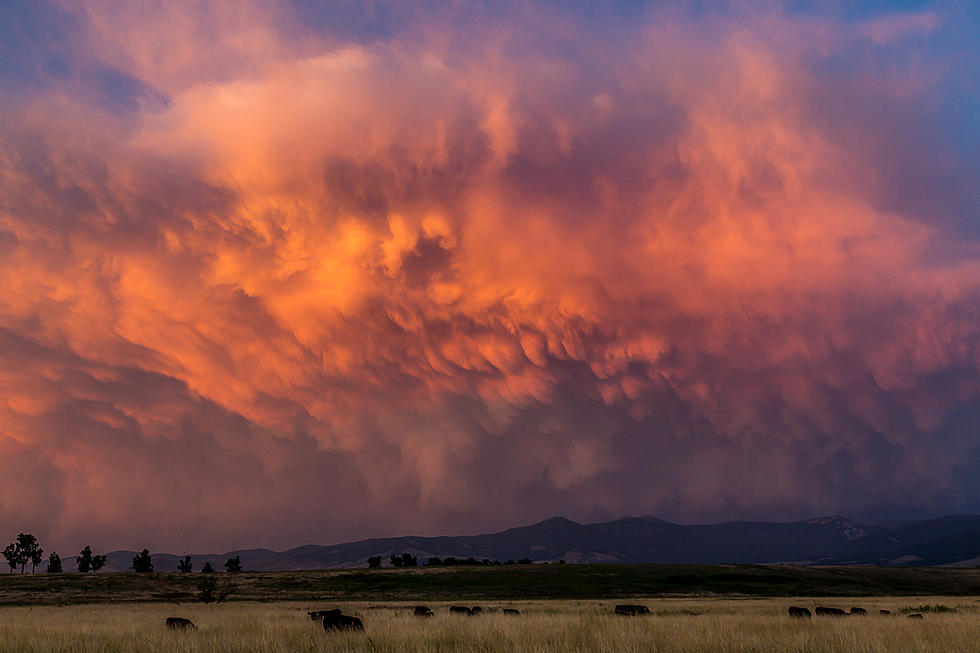 A 'Fire Stopper' – Not A "Season Ender'
Storm Cloud at sunset. (Mike Daniels/Townsquare Media)
Rain storms that crossed over the Bitterroot Valley and Montana this past weekend dropped a little rain on the Bitterroot National Forest, in places up to an inch and a half. But more importantly, the weather pattern has dropped the daytime temperatures by about 20 degrees. Daytime highs have been in the 70s , with overnight lows down into the 40s. That has brought the official Fire Danger down from "Very High" to "High."
Stage 2 Fire Restrictions on the Bitterroot National Forest will be relaxed Thursday, August 26. Campfires will be allowed and the "hoot owl" restrictions of no firewood cutting in the afternoon will be dropped.
Public Affairs Officer Tod McKay said the Northern Rockies Predictive Services called the weekend weather change a "Fire Stopper, but not a Season Ender," meaning the forest fires could still become a problem, especially if you're using a campfire. We've had way too many unattended and abandoned campfires this year. Make sure you extinguish all campfires before you leave your campsite. If the coals are too hot to touch, drown it with more water.
Unfortunately, there may be more smoke coming into the area as the wind shifts to the southwest, where large fires continue to burn in western states. Fires on the Bitterroot National Forest have been small, with 61 reported blazes this year. Humans caused 20 of them and lightning was responsible for 41 fires. All were extinguished.
However, some things have not changed with the weather. The Ravalli County "open burning" ban will continue for the time being. Emergency Coordinator Eric Hoover said that restriction will be revisited in September, but there is no open burning allowed at this time. For the latest updates, check the Montana fire information site.
25 True Crime Locations: What Do They Look Like Today?
Below, find out where 25 of the most infamous crimes in history took place — and what the locations are used for today. (If they've been left standing.)